What is Luxury Vinyl Plank (LVP) Flooring?
Luxury vinyl plank flooring or LVP flooring is a versatile flooring option that suits many different types of homes. It's popular because of its ability to mimic the look of genuine hardwood or stone without the added cost, and it can handle many kinds of wear and tear.
When you get down to the basics of luxury vinyl plank flooring, it is essentially made up of the same four layers that vinyl flooring is composed of including a backing layer, design layer, film layer, and topmost wear layer. However, where luxury vinyl planking differs is in its thicker wear layer of aluminum oxide, as this layer is more durable and better suited to hold up against household use.
Unlike sheet vinyl, which comes in large rolls and has a flexible bend to it, vinyl plank flooring is a much thicker, rigid solution. Designed in long planks with a modified tongue and groove installation system, vinyl planks mimic wood flooring quite realistically. All in all, luxury vinyl is visually pleasing, budget-friendly, extremely durable, and, in most cases, waterproof — plus, it's incredibly easy to clean and maintain!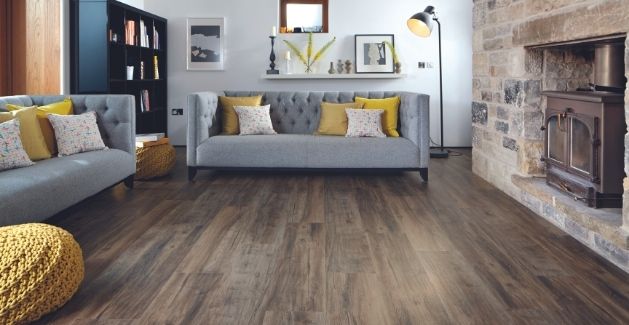 Benefits of Vinyl Plank Flooring
Realistic Appearance - When it comes to home design, having a space that exudes elegance, class, and personality is a huge part of choosing the best flooring for a space. Vinyl has made significant improvements over the years, and today, it can mimic some of the most popular flooring options. While luxury vinyl has been around for years, it wasn't always the top choice because it didn't look like the real material (hardwood or stone). Today, with improvements in technology, there's a better, more realistic HD technology that takes photos of hardwood or stone and is used on most luxury vinyl products. Knots, mineral streaks, and differing graining are all captured on today's vinyl planks, whether you're looking for hickory, oak, maple, or cherry wood looks. Along with the realistic exterior look of the plank, the plank shape also contributes to the authentic look of vinyl. Long, differing size planks appear like genuine solid hardwood planks because of their shape and size.

Price - Hardwood can add a beautiful elegance to any space. But, natural hardwood floors often come at a cost. Today's latest in luxury vinyl tile and luxury plank flooring provide both a stunning and cost-effective solution for almost any home. The cost of luxury vinyl greatly depends on the type of vinyl in consideration. Planks, tiles, varying constructions, thicknesses, and wear layers all contribute to the overall cost of luxury vinyl. You can expect to find glue-down vinyl as low as $0.50 or $1.00 per square foot, and luxury vinyl planks from $3.00 to $5.00 per square foot. The higher-cost vinyl planks usually feature added cushion, increased durability, and more design options.

Durability and potential waterproof - Vinyl plank flooring combines the beauty and character of hardwood with the affordability and durability of vinyl flooring. Tough materials like cork and limestone powder are just some examples of what's used to make vinyl a sturdy flooring option. One thing that sets vinyl apart from that other options like hardwood is its water resistance and waterproof features. Most vinyl products are water-resistant, meaning that they don't absorb liquid and spills quickly. For homes where kids and pets cause spills and accidents often, this can mean that your home is protected from future damages. There are also waterproof vinyl products available to ensure liquid does not seep below the surface into your subfloor. They can be installed in most areas of your home, including entryways, laundry rooms, and kitchens, where hardwood is not ideal.

Ease of maintenance and cleaning - As far as maintenance and cleaning, vinyl requires very little to look its best. It can be vacuumed quickly to pick up dirt and dust that sits on top of the surface, which will remove any debris. Mopping vinyl occasionally will also ensure that it looks clean at all times, but it doesn't need to be completed daily.


How to Install Luxury Vinyl Plank Flooring
Installing vinyl plank flooring should be done by professionals to ensure that it's done correctly. After all, you'll want to protect your flooring investment through the installation!
How should you install vinyl plank in your space?
Gluing, floating, or click-locking vinyl planks are all ideal installation techniques for your home. The best way to lay vinyl can vary on your specific needs. Your subfloor, the size of the space, and your durability needs may determine which technique is best.

In many cases, vinyl can be installed over plywood or concrete subfloors, as long as they are level, clean, and in good shape. Sometimes, a vapor barrier is required to keep the vinyl from buckling or bubbling, depending on the type of product and the subfloor below.

There are a few different directions in that vinyl plank can be installed: horizontally, vertically, and diagonally. The direction of the vinyl plank flooring will differ on your specific room or home, generally depending on the length, width, and lighting in the space. It's also important to check on the manufacturer's instructions to ensure that it's being installed in the correct direction, as not to void any warranties.
Luxury Vinyl Plank flooring proves to be a beneficial choice for many types of homes. Whether you're looking for impressive strength, durability, or beautiful looks, vinyl has something to offer you and your home.
Carpet One is a cooperative with over 1,000 locally owned stores, we offer the perfect blend of local business service and national chain savings and selection. Our team of experts is equipped with extensive experience, cutting-edge tools, and state-of-the-art technology, enabling us to provide the perfect flooring solutions for any need or budget. At Carpet One Floor and Home, we take great pride in our work and are committed to helping you find the right floor for your unique needs. Contact us today to see how we can assist you in transforming your space with beautiful new floors.